Two years ago, a consortium of Fashion District property owners revealed plans to transform the shuttered City Market of Los Angeles into a $500 million to $1 billion mixed-use complex.  The 10-acre site - bounded by San Julian, San Pedro, 9th and 12th Streets - would be redeveloped with a combination of housing, hotel rooms, creative office space, pedestrian-oriented retail and an educational institution focused on the fashion industry.
Now, a draft environmental impact report (DEIR) has unveiled new details about architecture firm HansonLA's master plan for the proposed development.
Education Campus Program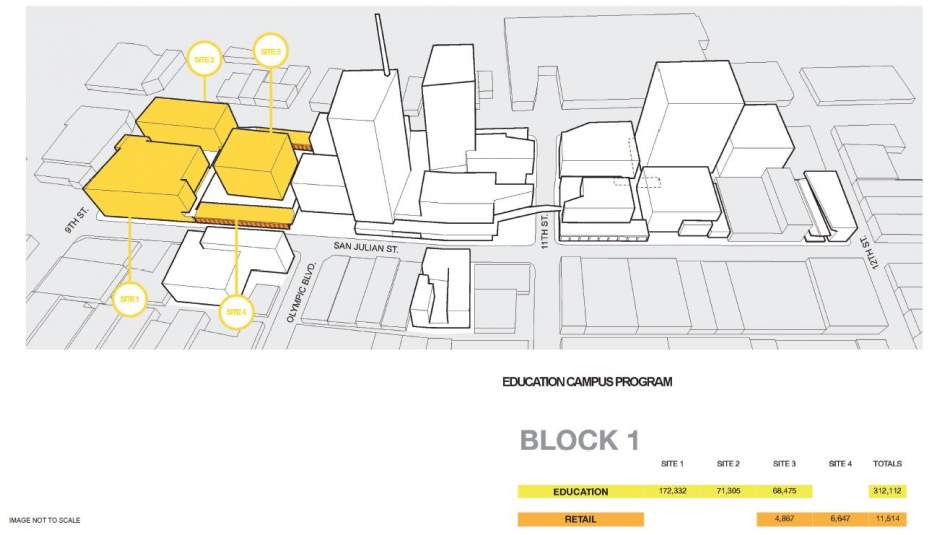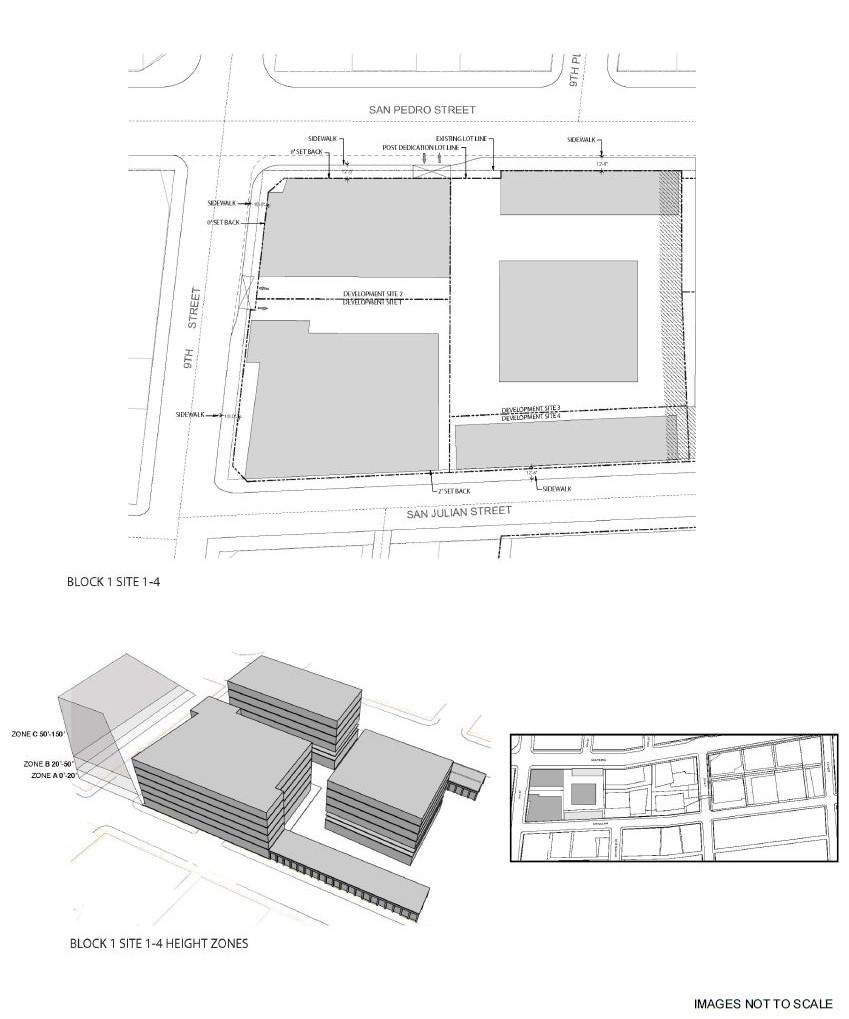 Although its exact development program may shift according to market demand, it is currently expected that the completed City Market development will be comprised by a mixture of educational space, housing, hotel rooms and commercial offices.
City Market's educational campus would be located at the northern edge of the development site, bounded by 9th, San Julian and San Pedro Streets.  The three buildings would offer slightly over 310,000 square feet of classroom space, supplemented by approximately 11,500 square feet of ground-level retail uses along the eastern and western edges of the site.  Buildings within the campus could stand as tall as 150 feet above-grade.
The proposed campus would be capable of accomodating either a single institution in multiple buildings, or multiple institutions in their own buildings.   The requested entitlements would allow the educational component of the project to serve as a corporate office campus.
Residential/Hotel Program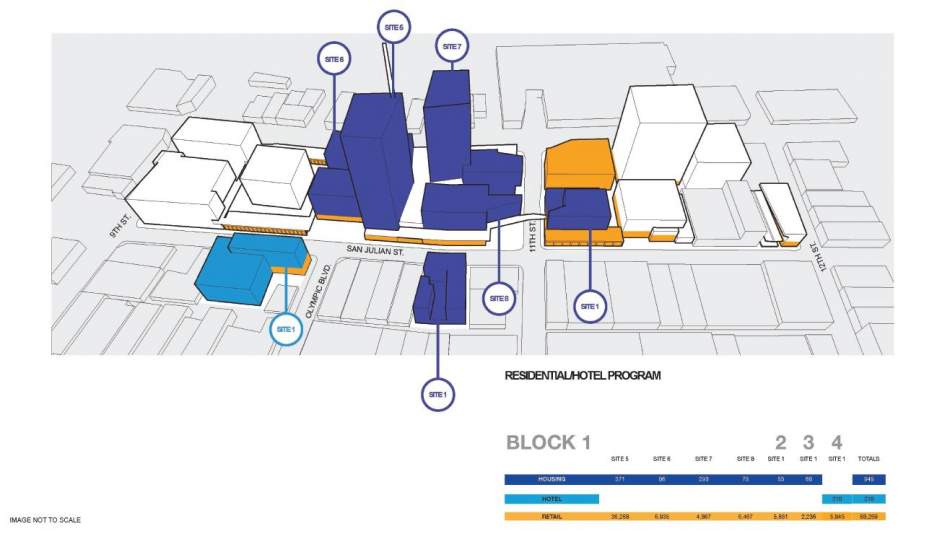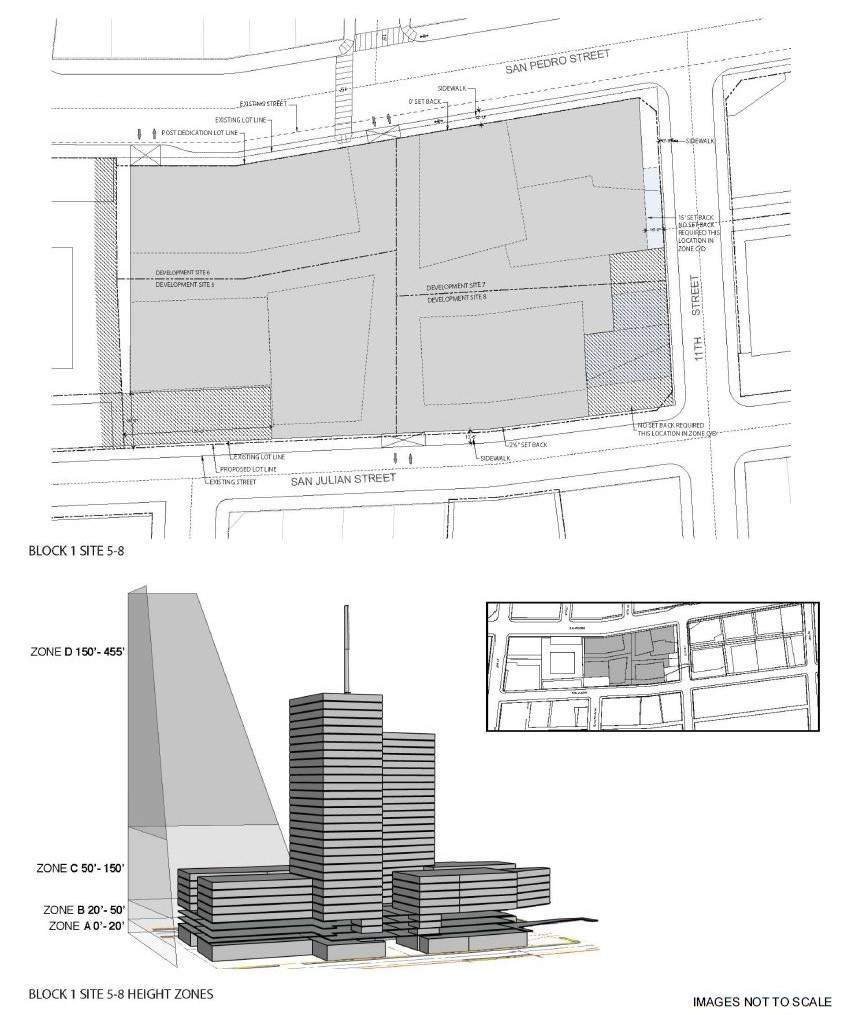 The bulk of City Market's floor area would consist of its housing and hotel component, slated for the southern half of Block 1, the northwest corner of Block 2 and a pair of satellite properties located off the main campus.
Blocks 1 and 2 would include a series of high-rise and low-rise buildings, offering a combined total of 824 one-, two- and three-bedroom dwelling units.  West across San Julian Street, a proposed mid-rise structure would add 68 live/work lofts.  In total, City Market plans for a total of 945 new housing units.
The proposed hotel, situated in two buildings at the intersection of Olympic Boulevard and San Julian Street, would be a mid-sized venue intended to cater towards out-of-town business travelers and visitors to the school.  Plans call for approximately 112,000 square feet of floor area, comprising 210 guest rooms and amenities such as a fitness center and a rooftop pool and bar.
Retail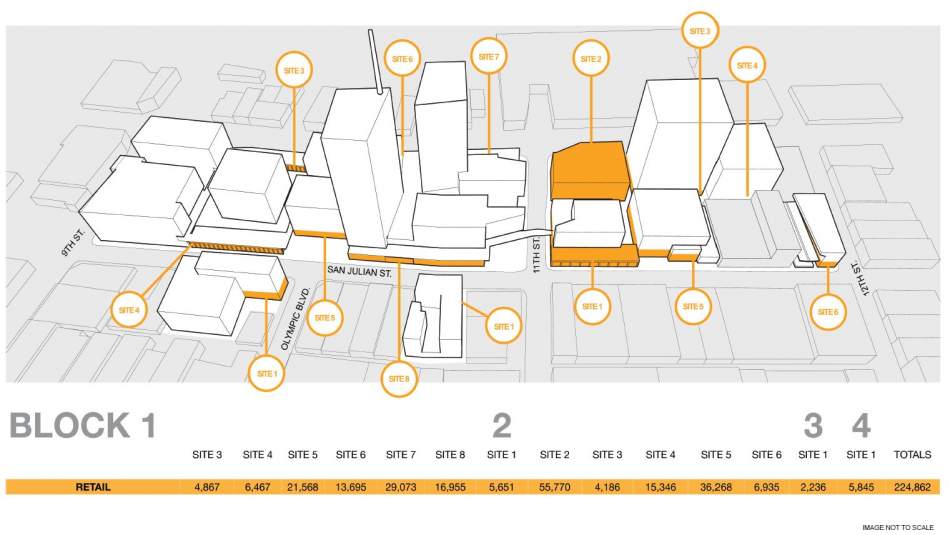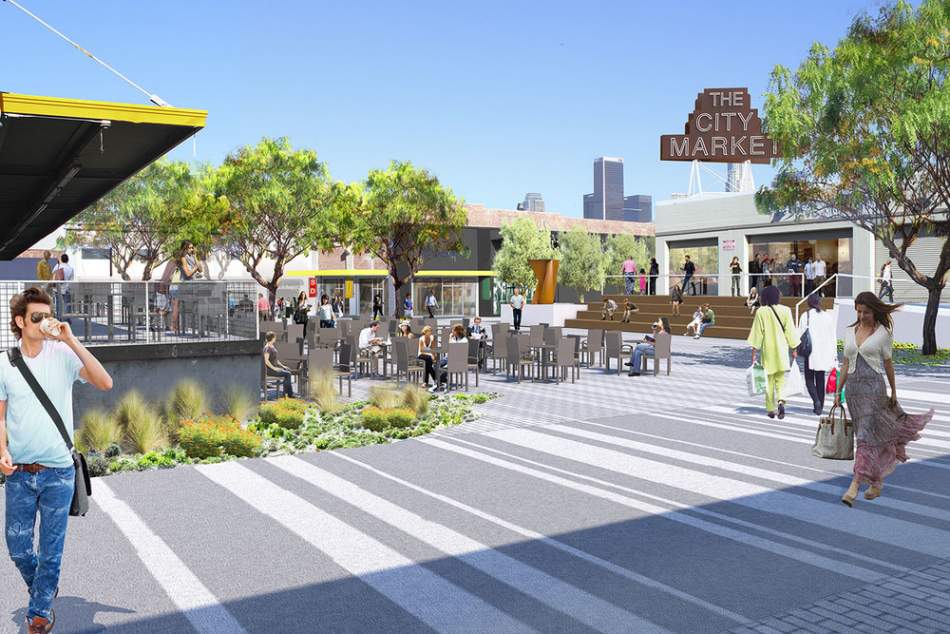 The DEIR call for approximately 225,000 square feet of retail, wholesale and entertainment uses spread throughout the City Market complex.  The retail program, which is described as an "integral component of the ground floor for each of the development sites," would include local shops, sit-down restaurants, cafes and a grocery store.  Entertainment venues would include a nightclub and a 744-seat movie theater.  The roster of shops and restaurants would be tailored to both activate the pedestrian environment and complement the proposed educational, residential and hotel uses.
The first phase of the project's retail program - dubbed City Market South - broke ground approximately one year ago.  The project is repurposing vintage warehouses and commercial buildings as a 75,000-square-foot hub of creative office space, destination shops and trendy restaurants.
Commercial Office Program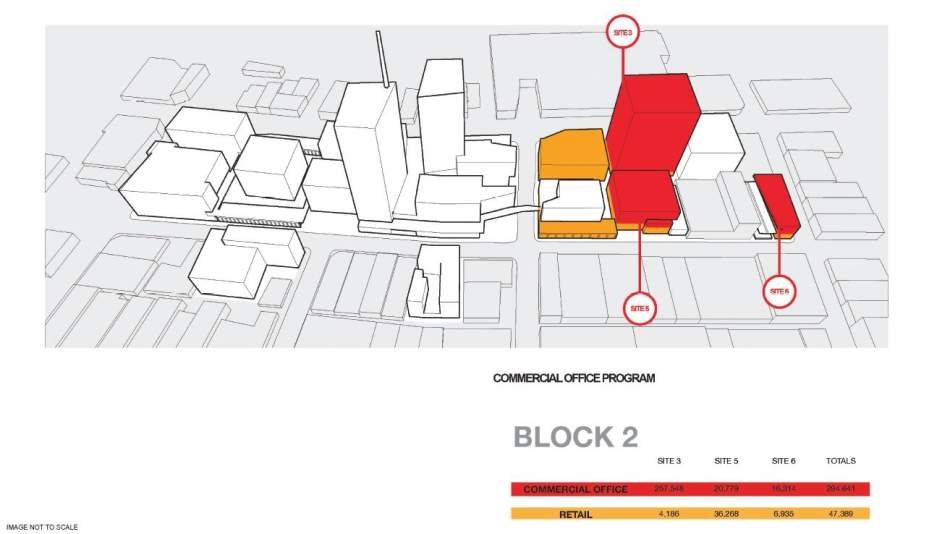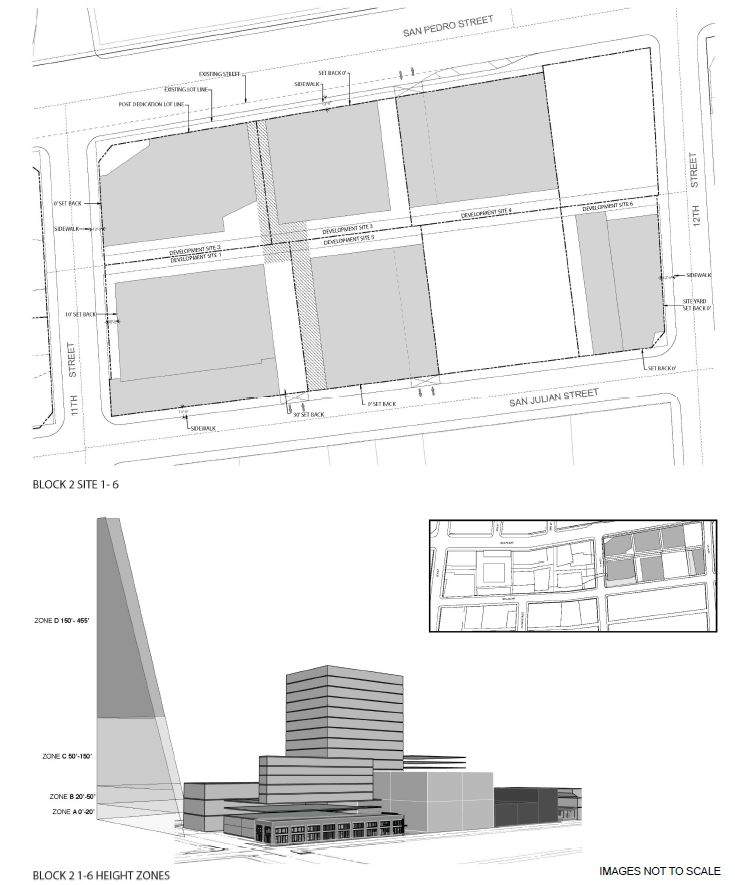 City Market's primary office component would rise from the southernmost edge of the development site, bounded by San Julian, San Pedro and 12th Streets.  Plans call for nearly 295,000 square feet of office space, situated within low-rise structures along San Julian Street and a high-rise tower along San Pedro Street.  Like in other components of the project, each building's ground floor would be activated with retail space.
While no precise figures are specified within the DEIR, a building height's guideline indicates that the tower could rise as tall as 455 feet above street level.
Phasing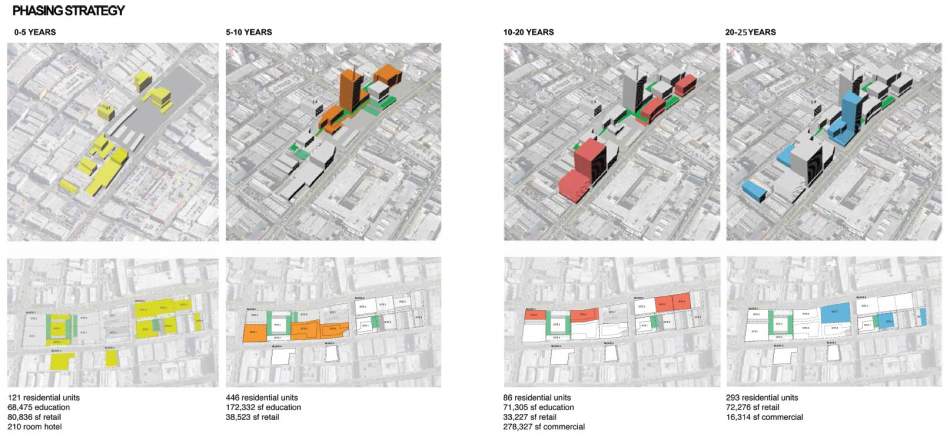 Although an exact construction timeline will depend on future market conditions, it is currently anticipated that the City Market development will be built in four phases over the course of 25 years.
Phase I (Years 0-5): 121 residential units, approximately 69,000 square feet of educational space, approximately 81,000 square feet of retail floor area, 210 hotel rooms.
Phase II (Years 5-10): 446 residential units, approximately 172,000 square feet of educational space, approximately 38,500 square feet of retail floor area.
Phase III (Years 10-20): 86 residential units, approximately 71,000 square feet of educational space, approximately 33,000 square feet of retail floor area, approximately 280,000 square feet of commercial office space.
Phase IV (Years 20-25): 293 residential units, approximately 72,000 square feet of retail floor area, approximately 16,000 square feet of commercial office space.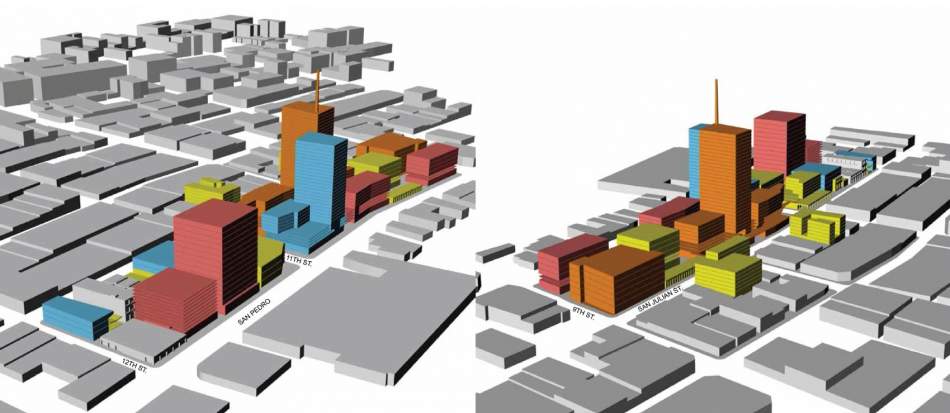 Open Space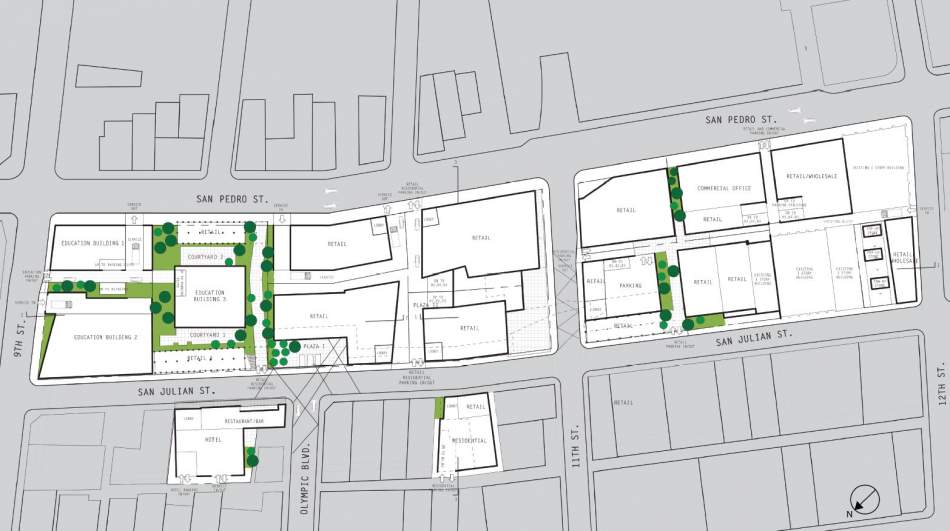 In order to unify the sprawling development site, plans call for a series communal green spaces and passageways which would bisect the 10-acre property
At street level, two piazzas and two mid-block crossings would provide gathering space and allow for cut-through pedestrian traffic across the property.
Twenty feet above, an elevated linear park would parallel San Julian Street, connecting the residential and educational space on the northern property to the offices and retail space on the southern property.  Outdoor pool and amenity decks would provide additional private open space at the podium level for residents.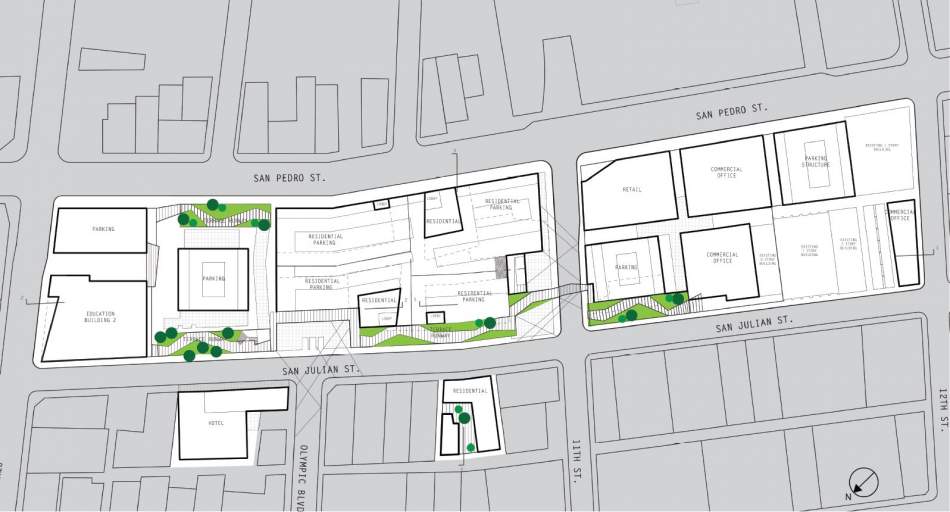 Parking
Parking for City Market will be provided in excess of what is required by the Los Angeles Municipal Code.  A series of underground and podium garages dispersed throughout the site will include a cumulative 3,671 vehicles scalls, primarily for use by residents and commercial office tenants.  The project would also include a standalone above-grade garage at the southern edge of the development site, intended for use by office and retail tenants.
Required Approvals
Construction of the City Market development as currently proposed will require a variety of discretionary approvals, including a zone change and a general plan amendment.  Additionally, the project has requested a new signage district which would allow for the use of supergraphics and digital displays on its buildings.