Construction cranes and earth movers have become common sights south of Hollywood Boulevard, where a slew of commercial developments are currently replacing longtime surface parking lots.  Nearly one year after we last dropped by, take another stroll down Selma Avenue to tour the dramatic changes to Hollywood's urban fabric.
The Dream Hollywood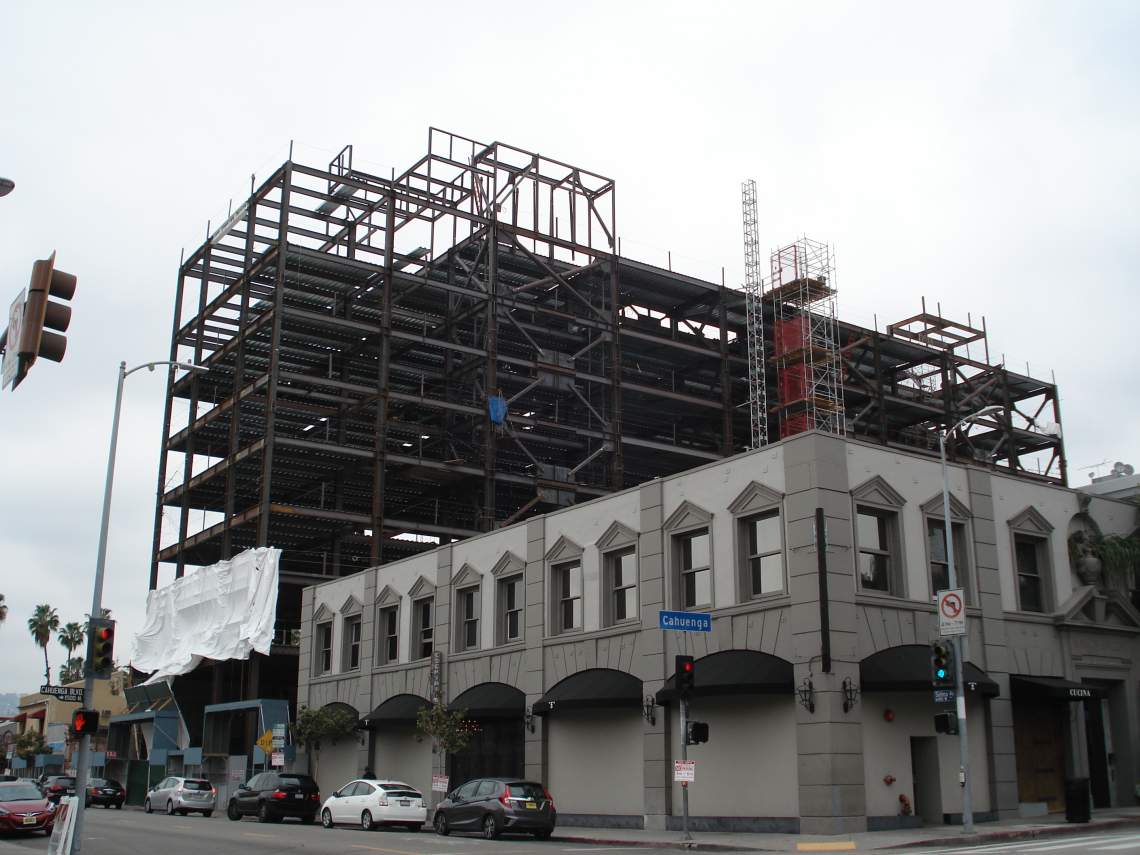 Midway between Cahuenga Boulevard and Wilcox Avenue, crews have nearly completed the steel framework for the first Southern California location of the posh Dream Hotel chain.  The project, located at 6417 Selma Avenue, is being developed by locally-based real estate firm Five Chairs.  The 10-story edifice, designed by Santa Monica's Killefer Flammang Architects, will contain 182 guest rooms and multiple food and beverage venues when completed.  Peaking 125 feet above street level, the mid-rise structure will stand just shy of the neighborhood's historic 150-foot height limit.
The Dream Hollywood is one of numerous hotels in development on surrounding blocks, including a 12-story inn slated for Wilcox Avenue and a 55-room boutique establishment planned on Cahuenga Boulevard.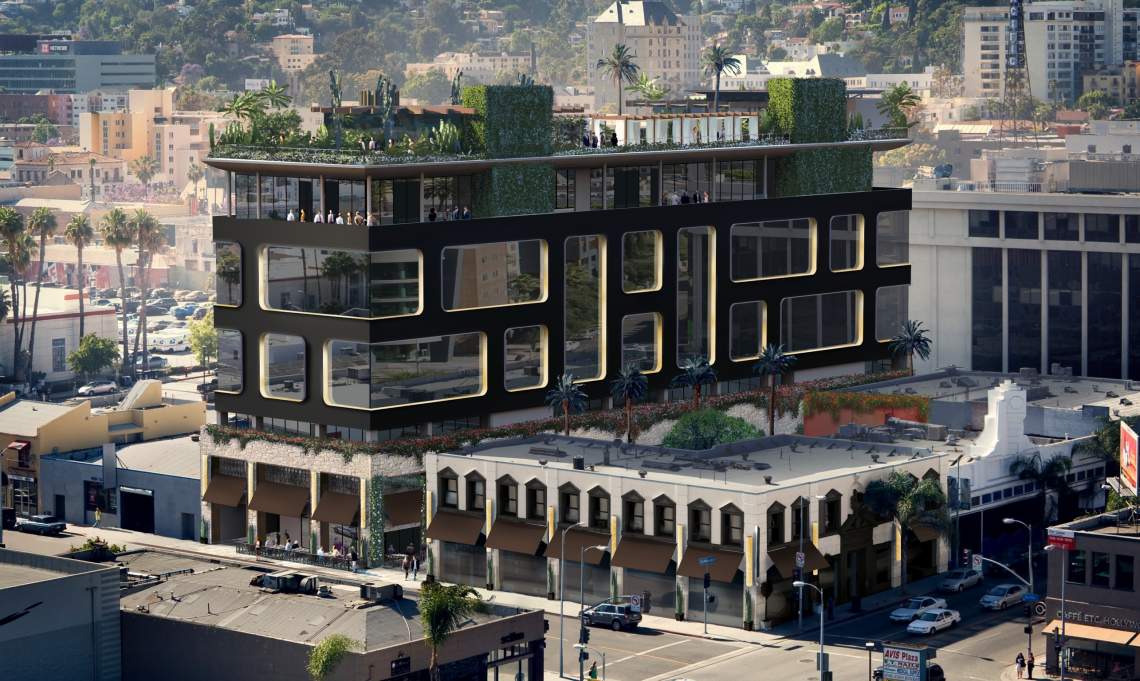 Mama Shelter Los Angeles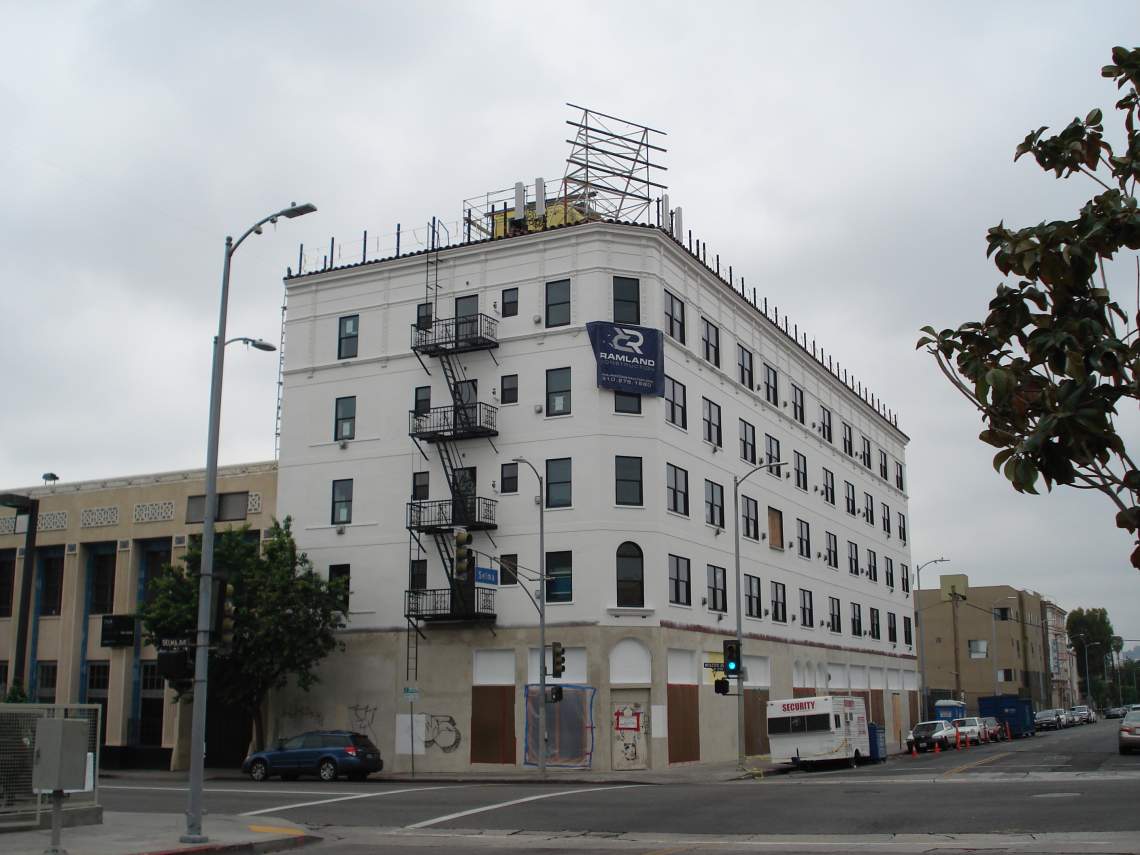 Slightly west of the Dream Hollywood, work is nearing completion on Mama Shelter Los Angeles.  The project, located in a restored 92-year-old building at 6500 Selma Avenue, will include 70 guest rooms, a 1,250-square-foot rooftop restaurant, and approximately 3,000 square feet of ground-floor commercial space.  Mama Shelter Los Angeles will be the trendy Philippe Starck-designed hotel brand's first location outside of Europe.
1601 Vine Street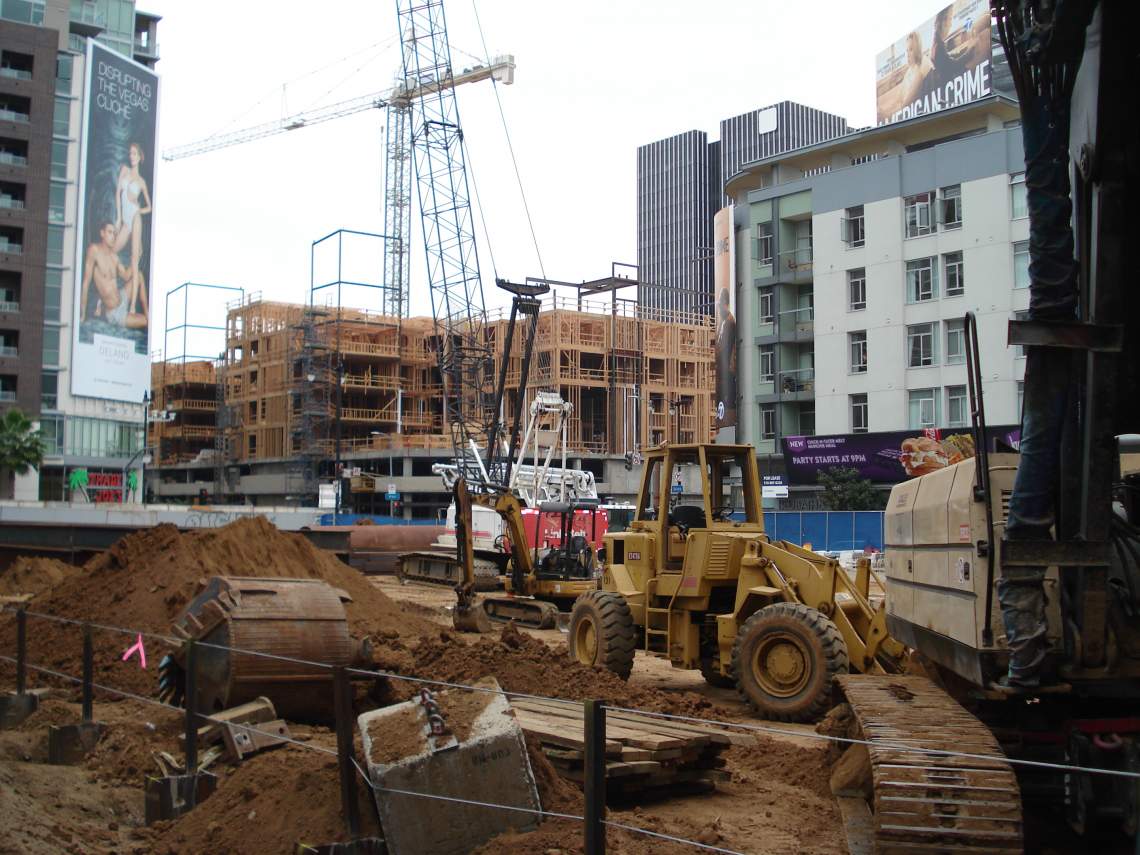 At Selma's intersection with Vine Street, site preparation continues for 1601 Vine Street, a long-delayed office development now under the stewardship of the J.H. Snyder Company.  The proposed eight-story building, designed by architecture firm Gensler, will include 107,000 square feet of office space, 2,000 square feet of ground-floor retail space and a five-level underground parking garage.  The project, which finally broke ground in December following years of delay, is reportedly scheduled for delivery sometime during 2016.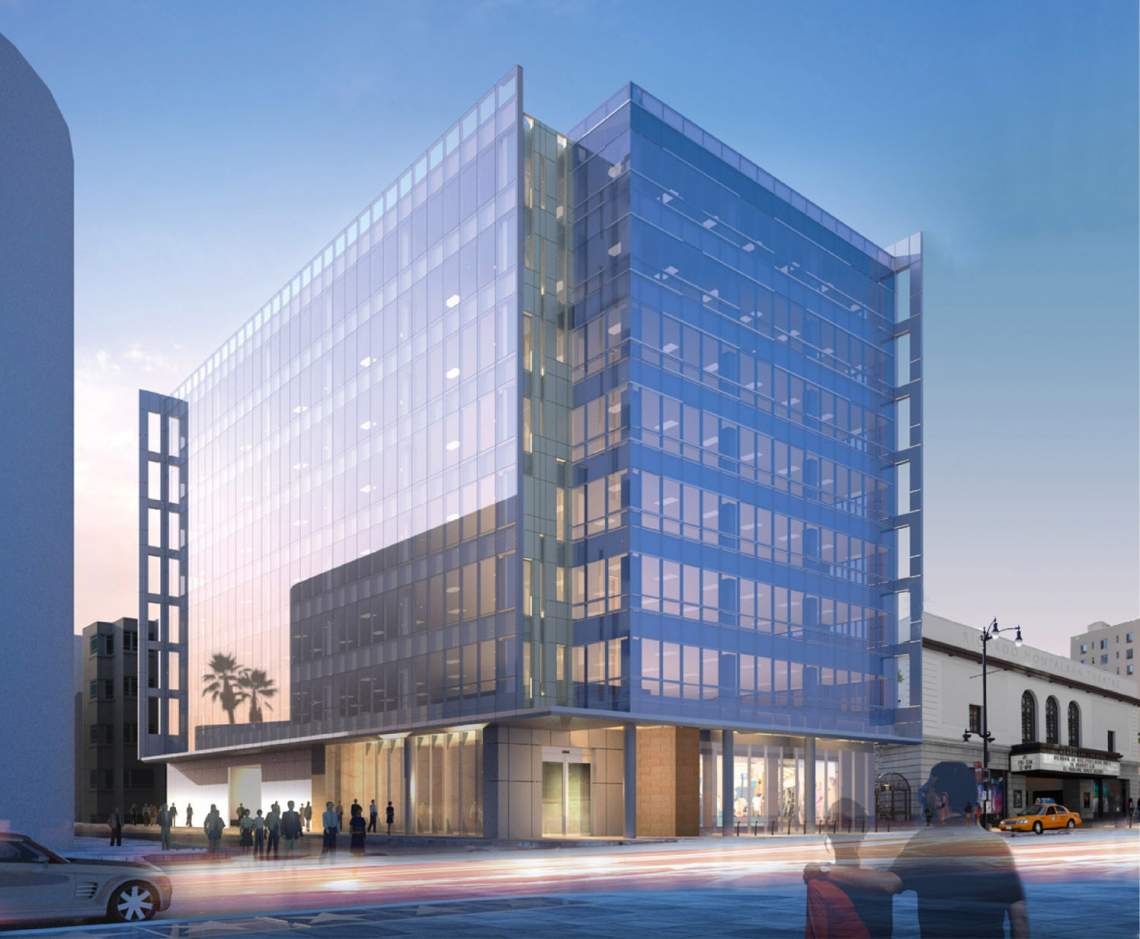 The Camden Hollywood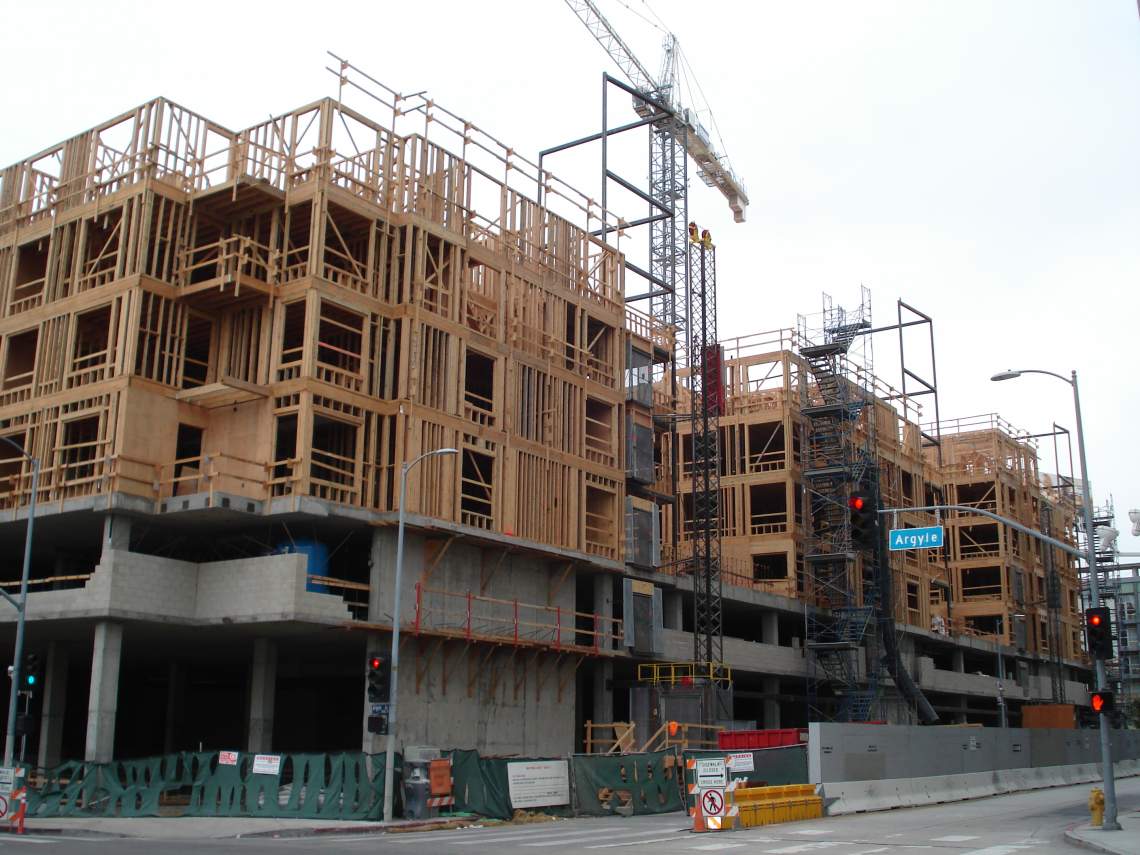 Directly across the intersection, construction has progressed to the sixth floor above ground at the Camden Hollywood, a residential-retail complex by the Houston-based Camden Property Trust.  The low-rise complex, which will peak upon reaching its seventh floor, is to consist of 287 luxury apartments and a 40,000-square-foot Equinox Fitness on its ground floor.  Design for the project from TCA Architects feature various high-quality exterior finishes, supergraphics and blade signs.  The project represents a slight decrease from earlier plans for the property at 1540 Vine Street, which was first proposed as an 11-story podium-style building.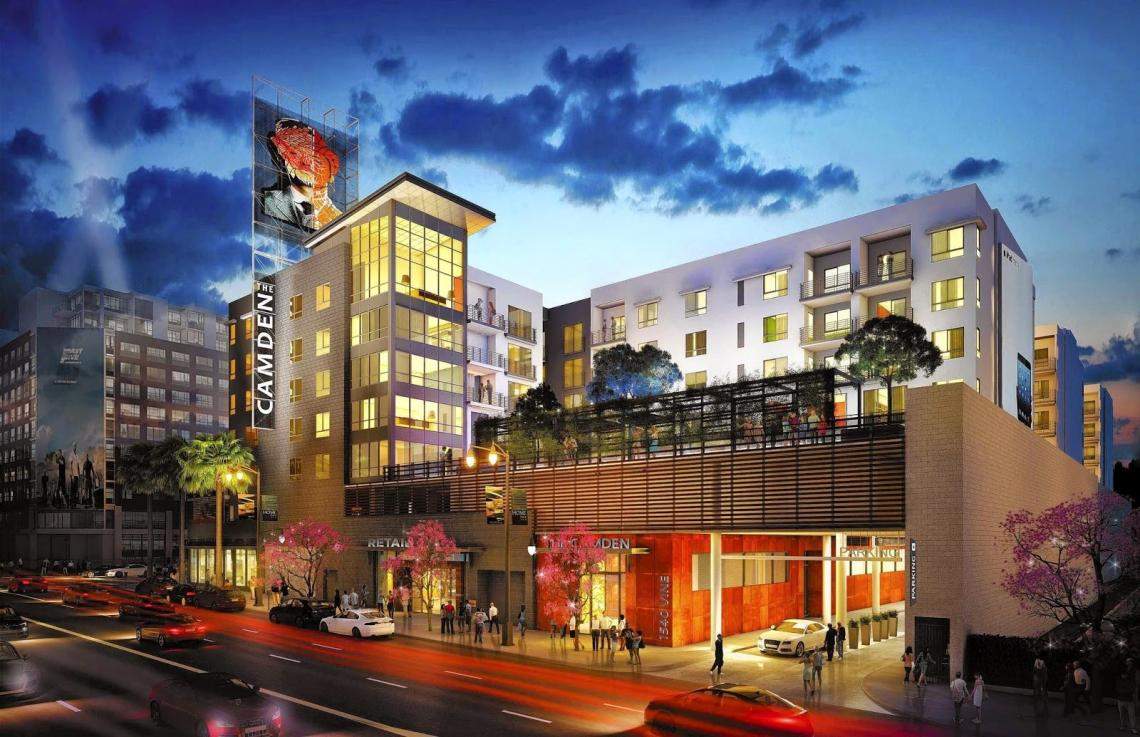 Columbia Square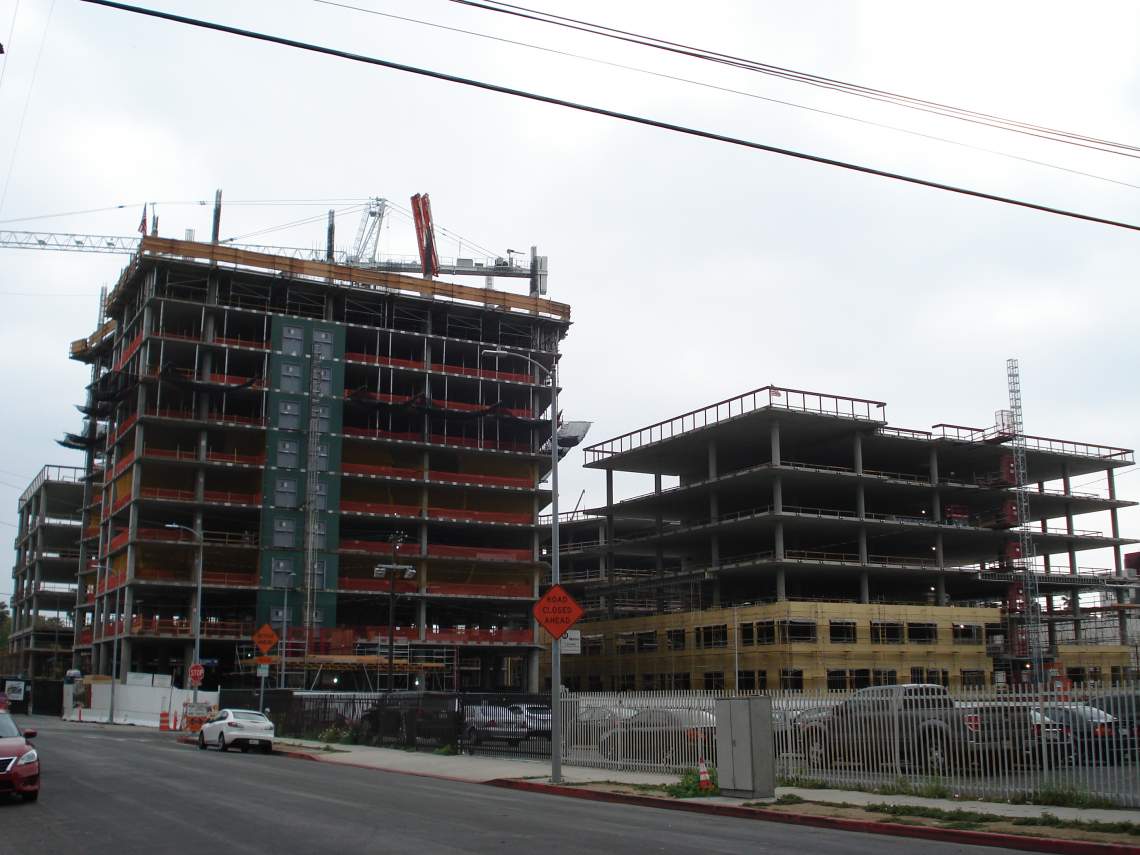 Moving east, concrete continues to rise for Columbia Square, a $420 million residential, office and retail complex which is being developed by Kilroy Realty.  The project, which is currently the largest real estate development underway in Hollywood, consists of multiple low-rise office buildings, a 20-story apartment tower and the adaptive reuse of the historic CBS Studios broadcast facility on Sunset Boulevard.  Designs for the 685,000-square-foot complex come from a team spearheaded by Rios Clementi Hale Studios and House & Robertson Architects.
Columbia Square has lead the charge in Hollywood's much-improved office market, having recently signed long-term leases with prominent tenants such as Viacom and co-working space Neuhouse.